The quality of your estimates depends largely on the quality of your cost data. Because you don't have much time to create an accurate estimate, an up-to-date database of prices is an extremely valuable resource to have.
It's incredibly important to consider what kind of pricing you're using, which varies depending on whether you're an architect or a contractor/subcontractor. Architects focus on the sales price by looking at how a typical contractor would price a build, while contractors must always have a clear idea of the market price to figure out what other contractors will charge for a job. Of course, it's also critical to take your internal costs into account when trying to set the sales price. If you don't get the price right, you'll either lose jobs in a bidding contest or lose money due to the higher than anticipated cost.
Use price books with your estimating software to speed up the process
Estimating software increases your efficiency because it allows you to work with price books. If you don't already have one of your own, you can buy a commercial price book like RSMeans or BNi as an add-on. Price books contain all the items that you typically work with, and they are extremely easy to use. Carpenters, for instance, have a price book containing different types of floors, drywalls, and roof elements. With estimating software like Sigma, just drag and drop the price and set the quantity to get the total including labor, materials, equipment, etc.
Watch how to build your own assemblies with BNi cost data in Sigma > 
Decide whether to buy a price book or build your own
Most of the time, architects buy professional price books because they don't do construction themselves and don't have a firsthand way to figure out costs. Some contractors prefer to build their own price books to make sure the prices reflect the way they work, the equipment they use, and the price of materials they obtain from their suppliers. With some discipline, it's possible to figure out exactly where you earned or lost money and use this information to adjust the price book for the next project.
Use free price lists to build a comprehensive rich list
You can often obtain a price list of materials for free from suppliers like Home Depot. (These lists only contain the prices, and do not provide the labor, duration, productivity rates, and actual cost like you would find in a commercial price book.) These are flat lists that can be imported and used in estimating software to build up your rich list. For example, you can combine items like lumber, insulation, drywall and labor from your flat list into an assembly in your rich list so every time you want to estimate drywall, all these items are already included.
Update your prices regularly
Because you must send out many quotes and bids in a short amount of time, estimating must be done quickly, efficiently, and accurately. Your prices must be updated on a regular basis to ensure that you will be adequately prepared. Estimating software allows you to get a list of materials at any time and see where the largest quantities are. For materials with a fluctuating price, it's important that you have the capability to make updates to the price and see the changes reflected everywhere in the project where that material is used.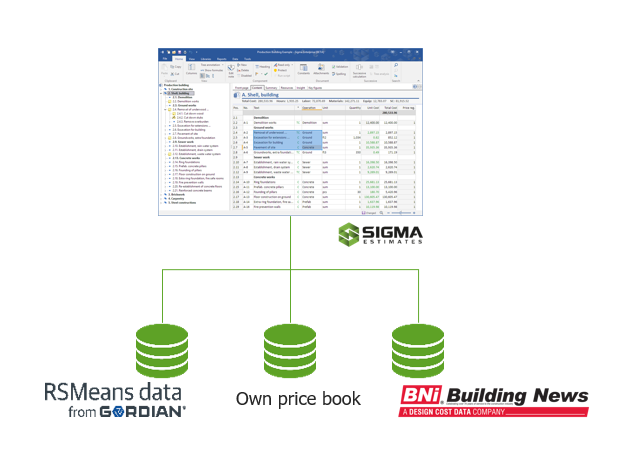 Sigma provides you with an unbeatable combination of advanced estimating and most recent and relevant cost data. So, no more manual cost lookup in books and manual transfer. Which means, you save time, estimate precise calculations and eliminate risk of errors. Please note, all cost databases and integrations are included in your free trial.
So, what are you waiting for? Download Sigma free trial and add your cost databases from here. Click on links below to learn more.
See RSMeans Cost Databases  See BNi Cost Data